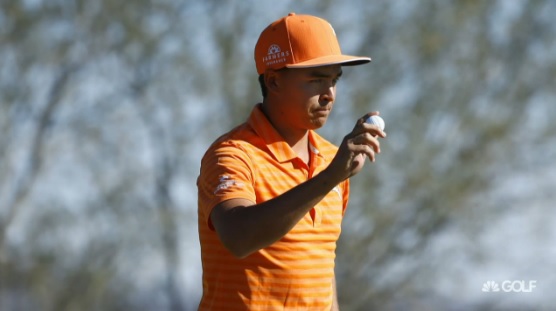 SCOTTSDALE, Ariz. – Rickie Fowler had a lot more riding on the Waste Management Phoenix Open than anyone knew.
Even before he took questions from the media, it was clear his playoff loss Sunday to Hideki Matsuyama hurt – a lot.
His voice cracked with each answer as he recalled how he found the water twice on the short par-4 17th – once in regulation and then again on the fourth playoff hole – and how he came so close to winning his fifth title in nine months.
But it wasn't club selection or missed putts that caused Fowler to break down in tears. When asked how he was going to get over his second-career playoff loss, Fowler could barely get the answer out.
"The hard part is having, you know, all my friends and family and grandpa and my dad who haven't seen me win," Fowler said. "But I will be able to kinda hang with them tonight. I'll be all right. With how good I'm playing, I know I can win. That's the hard part."
And that's when Fowler had to walk out.
For most of the back nine, it looked like Fowler was heading to a coronation. The rowdy fans in the amphitheater at the par-3 16th were ready to hand him the trophy when Fowler stuck his tee shot to 8 feet, 9 inches.
Chants of "RICK-IE!" "RICK-IE!" "RICK-IE!" rained down as Fowler lined up his putt. Make it, and he leads Matsuyama and Harris English by three with two holes left.
He missed.
Then came the hole that would define this tournament. Fowler first selected 3-wood off the tee at the 317-yard, par-4 17th. But he put it back in the bag for the driver. Fowler smoked his driver down the stretch on the par-4 14th and the par-5 15th. This one was no different.
Except this time his ball hit the downslope in front of the green and rolled all the way through into the water behind the hole.
"I hit it right on line, hit it exactly where I was looking," Fowler said. "That's kind of the unfortunate part to hit the shots that I did and to pull them off, and then it kind of backfired there. Hit a perfect shot."
Standing on the tee with Fowler, Matsuyama was just as surprised.
"He hit a perfect drive in regulation at 17," Matsuyama said through his translator. "I'm surprised it went into the water. It was a great shot."
It was the opening Matsuyama needed. Seeing what Fowler did, Matsuyama drilled a 3-wood to the front of the green and got up and down for birdie. Fowler bogeyed, and they went to the 18th all square.
That's when things got real.
Check out the video!
(Source: GOLF)