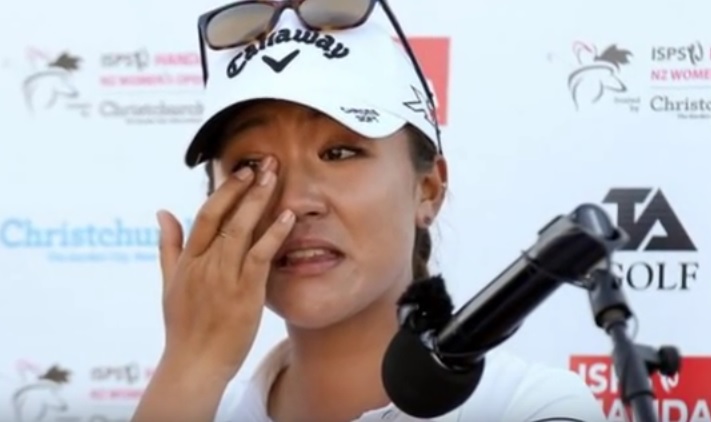 CHRISTCHURCH, New Zealand (AP) Unfazed by an earthquake just before she teed off, top-ranked Lydia Ko won the New Zealand Women's Open for the third time in four years Sunday.
The magnitude 5.7 quake rattled the area about 10 minutes before Ko began play. She started the round on time and play wasn't interrupted by the quake.
"It was interesting, I've never been on a golf course where there is an earthquake," Ko said. "It was a lucky I wasn't out there playing because I wouldn't want to be in the middle of my swing and the ball moves somewhere else."
Ko closed with a 2-under 70 for a two-stroke victory. The 18-year-old South Korean-born New Zealander finished at 10-under 206 at Clearwater Golf Club. She also won the national championship in 2013 and 2015.
England's Felicity Johnson, South Korean amateur Hye Jin Choi and Denmark's Nanna Koerstz Madsen tied for second. Johnson shot 67, Choi 69, and Madsen 70.
The event was sanctioned by the Ladies European Tour and Australian Ladies PGA.
The earthquake came a week before the fifth anniversary of a 6.3 magnitude quake that killed 185 people in Christchurch and area.
Ko birdied her second hole but gave it back with the only bogey of her round at the par-5 fifth, three-putting from 10 feet.
She briefly dropped behind Amelia Lewis, but the American bogeyed the 16th, leaving Ko among five players tied at 8 under. Lewis finished with a 69 to tie for sixth at 6 under.
Ko birdied Nos. 10 and 11 to take a two-shot lead and she held that advantage to become the first player to successfully defend the title.
"I could feel some tears coming after the 18th hole," Ko said. "It's been a long week, a lot of emotion and a lot of people to share this amazing victory with. Especially given how much New Zealand golf has been a support to me and my career."
(Via: Golf)
Image: YouTube Printscreen