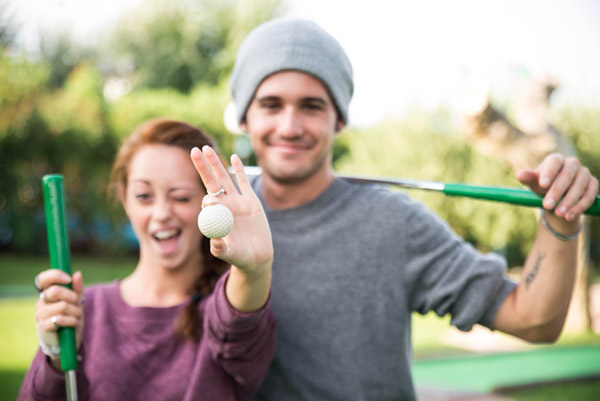 One of the best ways to choose yourself a partner is based on shared interests. This ensures you with great companionship and enjoying your time together on the long run. If you are a golf fan, meeting a golfer and starting a relationship with him/her could lead to a wonderful life together.
Here are several tips on meeting and dating a golfer:
How and where to meet single golfers
If you are a golfer, chances are you are already a member of a certain golf club. If not, you should know that such membership might be crucial for meeting other enthusiasts of the sport, and meeting some of them who are single. Not only will you be able to get in touch with many singles who share your interest, your whole social life will blossom as well. Golf clubs are amazing social organization and they offer many interesting events such as dances, fests and picnics. They are a perfect place to start looking for a like-minded date. When choosing a golf club to join, you should keep some criteria in mind, such as how much you can spare from your budget, or if you would be ok with traveling to the suburbs for meetings – or maybe you'd like to stay in the city. Singing in for golf classes is great too, if you are a beginner. You will immediately get in touch with other people who are just starting up too, and you might meet someone interesting on your class.
Look beyond golf clubs
In case you already are a member of a golf club, and you still haven't had any luck finding someone interesting, feel free to cast your net wider. Tournaments outside of your local club could be interesting, as well. Even if you don't feel like your skills are good enough to participate, attending the tournaments and mixing up with the crowd could lead you to interesting new meetings. Golf tournaments in other cities, or even states, can be awesome places to meet single golfers from various places. Many cities have their own single golfers associations. One of those is the American Singles Golf Association and it has different chapters across several different cities. The association hosts amazing events and holidays. You never know when you might get lucky at one of these.
Try online dating sites
We all know that the internet is an amazing dating resource, even more so if you are looking to meet people from a particular category. You can sign up for dating sites committed to bringing single golfers together. You would be amazed how many new people you could meet there. There are many success stories and many beautiful marriages that have started up on these websites. These sites are not just places where people talk about dating alone; you can discuss anything you want to with all those members. Apart from dating sites, there is also a large number of interesting golf blogs, forums and discussion groups.
Photo: © engy1/Dollar Photo Club