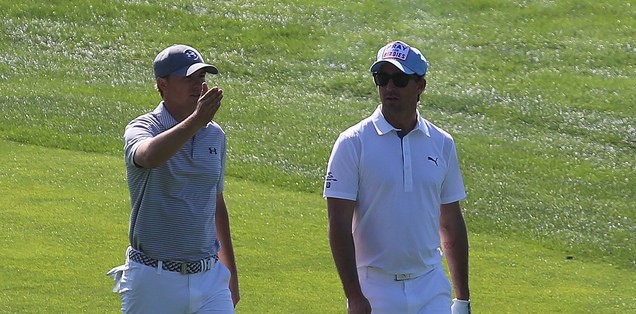 SHANGHAI — Jordan Spieth's description of his trophy collection from an amazing season brings to mind a scene in "Caddyshack" when Lacey Underall is at Ty Webb's house and keeps finding uncashed checks littered about the living room.
There's a U.S. Open trophy in one corner of his bedroom. A green jacket in the closet. A crystal trophy from the Tour Championship over here. The FedEx Cup trophy over there. Trophies from the Valspar Championship and John Deere Classic. A bronze of Jack Nicklaus for PGA Tour player of the year.
It's all there for hardly anyone to see.
"I've never wanted to just display stuff," Spieth said Wednesday. "That's what we try to win, and when we win we get satisfaction. It's very satisfying, and then we go on to the next goal. We go on to the next trophy. … I feel uncomfortable if it's all out in the open.

"When you achieve those goals and you have those trophies in your possession, that's what is important to me. People already know that I won. So what good does it do for me to have my friends over and just flaunt it in their face? Just keep it in my room and go for the next one."
The next chance starts Thursday at the HSBC Champions, a World Golf Championship that technically starts a new PGA Tour season for the 22-year-old Texan, even though it still feels like he is winding down a year that brought him stardom and fame that he never imagined.
Last week, Dallas-based AT&T honored its prized client by building a mosaic of Spieth using more than 24,000 golf balls on a tee. When he arrived at Pudong International Airport in Shanghai, he saw posters in the baggage claim promoting him along with Rory McIlroy and defending HSBC champion Bubba Watson.
Watson was portrayed as the magician. McIlroy was the fire. Spieth was the ice man.
"It's really cool to see golf have recognition and fans around the world," Spieth said. "It's a dream come true for me, it really is. To have young juniors walking in our group today in 12 holes in the pouring rain, it's just something that I probably didn't even see in my wildest dreams. So to have it take shape is spectacular, but with it comes responsibility. And we have to continue to have years like we did this last year to keep it that way. If you don't play well, you're not going to see yourself in the airport in Shanghai."
Spieth said he didn't touch his golf clubs for two weeks after the Presidents Cup, which he said was the longest he had gone without his hand on a club since he was 12. The break was nice coming off a year that featured five wins, two majors and a record $22 million in earnings and the FedEx Cup bonus.
(Via ESPN)