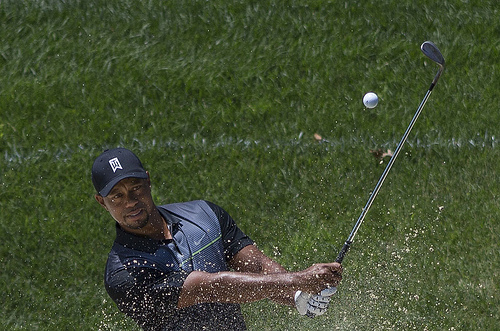 Tiger Woods used to carry the whole essence of golf on his shoulders for over a decade. He made millions of viewers start watching golf on regular basis, and there was more money flowing into golf than ever before.
Since it has been several years since Tiger won a major, the popularity of golf has gone downhill. For example, his absence from the 2014 Masters resulted in television ratings falling to their lowest level since 1957. Only 11m US viewers have tuned in for the final round in 2014.
The numbers of golfers in the United States has also fallen by a lot. Wood's public crisis due to his infidelity along with his loss of form and financial crisis have left golf somewhat "hurt".
"These are turbulent times," says David Joy, the chief executive of England Golf, the governing body for the country's amateur game. "The decline in golf has been well documented and has been pretty conspicuous in all developed countries, from the US to Europe to Australia." (via Financial Times)
No one could have predicted this a decade ago. Golf was among the most favorite sports, and right there at the top of the list for baby boomers, as they left rugby and football for something less physically demanding.
The era that followed Tiger Woods' decline has turned out to be a changing one. A golf game takes an incredible amount of time, and not many people who play recreational golf want to be away from their homes for such a long time.
"Amateur golf needs to be understandable, accessible, affordable and quicker," says Guy Kinnings, the head of IMG Golf, the agency that represents players including Ian Poulter, Retief Goosen and Ernie Els. (via Financial Times )
However, luckily, there are alternative formats of golf and they are being heavily promoted.
Although golf remains the sport of business, it is also a great way to bond with people and spend some quality time with them doing so.
The main problem is getting millions of people away from their computers, smartphones and video games persuaded to go out and spend some time on a golf course. Golf takes patience and prolonged focus, and not many people seem to have those qualities in this new cyber era.
"We need to understand what the customer wants," says Joy at England Golf. "There is a considerable amount of work to do to make the first step into golf easier. It is expensive and takes a long time and it is difficult to play," he says. (via Financial Times )
He also points out that there is a high probability many young people don't even know how to join a golf club. England Golf works with 50 clubs to offer five to six weeks of coaching for a small fee, and then a flexible membership if offered so the transition is eased.
Similar initiatives are going on in the US, such as Get Golf Ready, PGA Junior League and Chip and Putt. They are all dedicated to drawing young players in.
Still, many clubs are resistant to this change and they feel they shouldn't relax their standards or drop their fees. Robert Clive, a founding partner of the 360 Golf consultancy, says the future of these clubs in uncertain.
"The old days of golf clubs where you had to be proposed and seconded, then go on a waiting list, then be a five-day member first and wait before you could become a full member, is ancient history. And some traditional clubs have not adapted to that," he says. (via Financial Times )
At the end of the day, it really does seem that golf is gaining back it's popularity, despite of the fact many clubs refuse to adapt:
Mr Clive says: "Golf is a survivor. It has never been sexy and it will never be sexy, but it is a sport that people turn to at some stage in their life. I am not pessimistic for the future, but there will be casualties along the way." Financial Times )