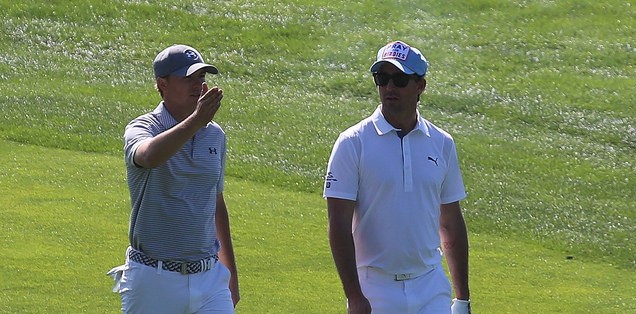 Photo:Erik Charlton
Hank Honey coached Woods to six of his 14 major victories between 2004 and 2010, and he is certainly qualified enough to know the pros and cons of the three best golf players in the world: Rory Macllroy, Jason Day and Jordan Spieth. This is exactly why The Scotsman has asked Honey about his opinion on who he thinks will have the best result of the three.
"I think Jordan will wind up with the best record of the three," says the Chicago native. "He has that internal motivation that is second to none right now. He has had no issues with his body. And he is best in putting, the part of the game that is hardest to improve. When you get to your 30s, you don't normally become a great putter. So I have to go with him. His only downside is that he isn't all-of-a-sudden going to get long off the tee. He is running as fast as he can run in that department."
McIlroy fans won't like the fact Honey is not a big fan of the Belfast man's game.
"The weakness in Rory's game has always been his putting," says Haney.

"Rory's ball striking is incredible. He's top-ten or right there in driving distance. Which makes his accuracy off the tee – he is 23rd – absolutely incredible. He's also comfortably in the top ten for greens in regulation. Those are statistics that can lead to domination, but not if you are 117th in putting."
Although there have been certain circumstances due to which McIlroy's 2015 hasn't come close to the previous year – for example, he missed a month of tournament play at the height of the season because of a football injury, Honey doesn't buy those circumstances:
"I do wonder about Rory's motivation," he says. "He's made a lot of money. It's human nature to ease off, but I don't see the same dedication in him that I see in Jordan. There was the playing soccer thing. And the comments he made at the end of the season worried me. He said that the years Jordan and Jason just had motivated him. Which is fine. But when did Tiger ever need that sort of motivation? Rory basically admitted to being not as motivated as he once was, or compared to his biggest rivals. That's a red flag for me.

"When it takes external motivation to get someone going, it isn't typically sustainable. It's short-term. The best motivation is internal, as it has clearly been for Jason and Jordan. And was for Tiger."
What about Jason Day?
"With Jason you have to keep in mind that it has taken him a long time to figure out how to win at the highest level," says Haney. "That time has been wasted. If he had figured it out quicker, I would have said he would turn out to be the best historically. If you look at his game compared to the other two, he should be the one.

"Jason's numbers for this year are off the charts. They are ridiculous. He has been, by far, the best player in the world – statistically at least. He is third in driving distance, sixth in greens in regulation, 14th in sand saves, fifth in strokes gained putting, fifth in three-putt avoidance and second in scrambling. He is by far the best player. Rory, in comparison, is 56th in scrambling. That's a big difference."
Source: The Scotsman